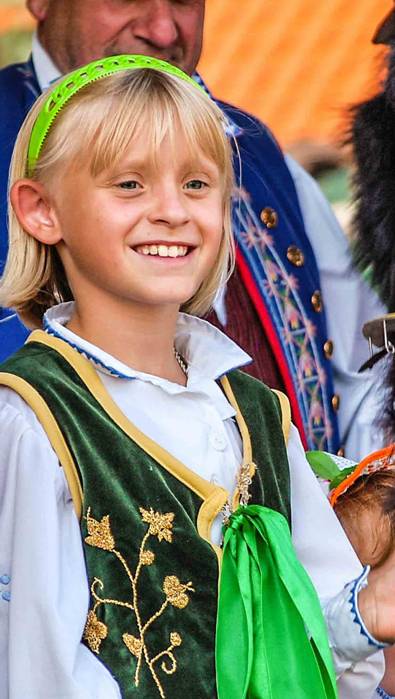 Some linguists joke that the Kashubian language is older than the Polish since many Slavic words in Polish have already disappeared, yet still exist in Kashubian. It belongs to a group of western Slavic languages including the Polish, Czech, Slovak and Upper and Lower Sorbian.
In the early 20th century the Kashubian language was still demonstrating strong regional divergences and a few dozen dialects have been reported. Until today Kashubians from the south have sometimes difficulties to understand residents from Norda – the northern part of region. What is more, the alphabet of those residents does not include the letter 'ł ', which is replaced by 'l'.
For decades, the Kashubian language was relegated to the private sphere of life. Thus, nowadays the language is spoken mainly among elderly people remaining in close intimacy ('swoji') as well as regionalists and enthusiasts. During the communist period the two generations of Kashubians lacked practical communication which is nowadays reflected in its condition. UNESCO (United Nations Educational, Scientific and Cultural Organization) still considers Kashubian as language seriously threatened with extinction.
At present, circa 106 thousand people use Kashubian on a daily basis or treat it as a mother tongue. The Kashubian language might be heard on the radio, the Internet and local television.
Alphabet and pronunciation rules of the Kashubian language
Alphabet
A Ą Ã B C D E É Ë F G H I J K L Ł M N Ń O Ò Ó Ô P R S T U Ù W Y Z Ż
In Kashubian alphabet there are no letters such as ź, ę, ć, ś.
How do we pronounce
sz, cz, ż, dż – soft, as ś, ć, ż, dź
ą – as 'u' nasal [un], sometimes during articulation simplified to 'u'
ã – as 'a' nasal [an], sometimes during articulation simplified 'o' or 'a' é – slanted 'i', intermediate sound between 'y' and 'i'
ë – short 'e' ò – as 'łe'
ô – sound similar to 'y', in some areas 'o' ù – intermediate between 'łu' and 'ły'
Popular phrases
Greetings: Niech bãdzë pòchwôlony Jezës Christus! or Dobri dzéń! Unofficial greetings: Witôj!, Witôjtaż! (plural.), Czesc!
Saying goodbye: Do ùzdrzeniô!, Òstani z Bògã!, Òstańta z Bògã! Thanking: Bóg zapłac!, Dzãka!, Dzãkùjã!
Apology: Przeprôszóm.